FREE BANJO LESSONS Bradley Laird's Free Bluegrass Banjo Lesson site is here!
---
---
---
FREE GUITAR LESSONS Bradley Laird's Free Bluegrass Guitar Lesson site is here!
---
---
©2015 Bradley Laird
---
FREE CHORD PROGRESSIONS - by Bradley Laird
Blackberry Blossom

The chords in this song come at you pretty quickly with a chord change every beat in the A part. You get to rest a little in the B part with those long stretches of E minor.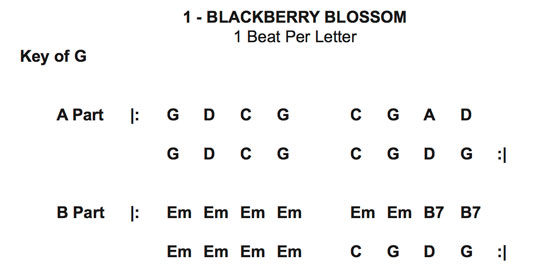 *This tune is almost universally played in the key of G. Don't be discouranged if it takes you a while to be able to make the changes easily. It is only listed here in the number 1 position because all of the tunes are in alphabetical order. I always tell my students to use this tune as their "test tune." If they can play rhythm to this they can play rhythm to anything.
Probably one of the most influential recorded versions of the tune is on the album Manzanita by Tony Rice. That recording inspired thousands of musicians to learn the tune including me. I also love Doc Watson's version below. No doubt, Tony listened to Doc plenty!
---
Download the PDF File: All 100 of the chord progressions from this site are available as a PDF file for printing on 8.5" x 11" pages. The download file includes 90 additional jam session favorites not shown on the website. Get information by clicking here.
---
Additional Learning Resources:
Bradley Laird's Mandolin Video Lesson: Blackberry Blossom
Bradley Laird's Free Mandolin Chord Charts for the Key of G
Easy Banjo Break for Blackberry Blossom
Back to Index of Chord Progressions
Follow Me