FREE BANJO LESSONS - by Bradley Laird
LESSON 15

Some Basic Banjo Chords (MP3 TRACK 26)
Here are some of the chord positions you will encounter frequently as you play. Learn to play each of them so that ALL the notes are clean and distinct.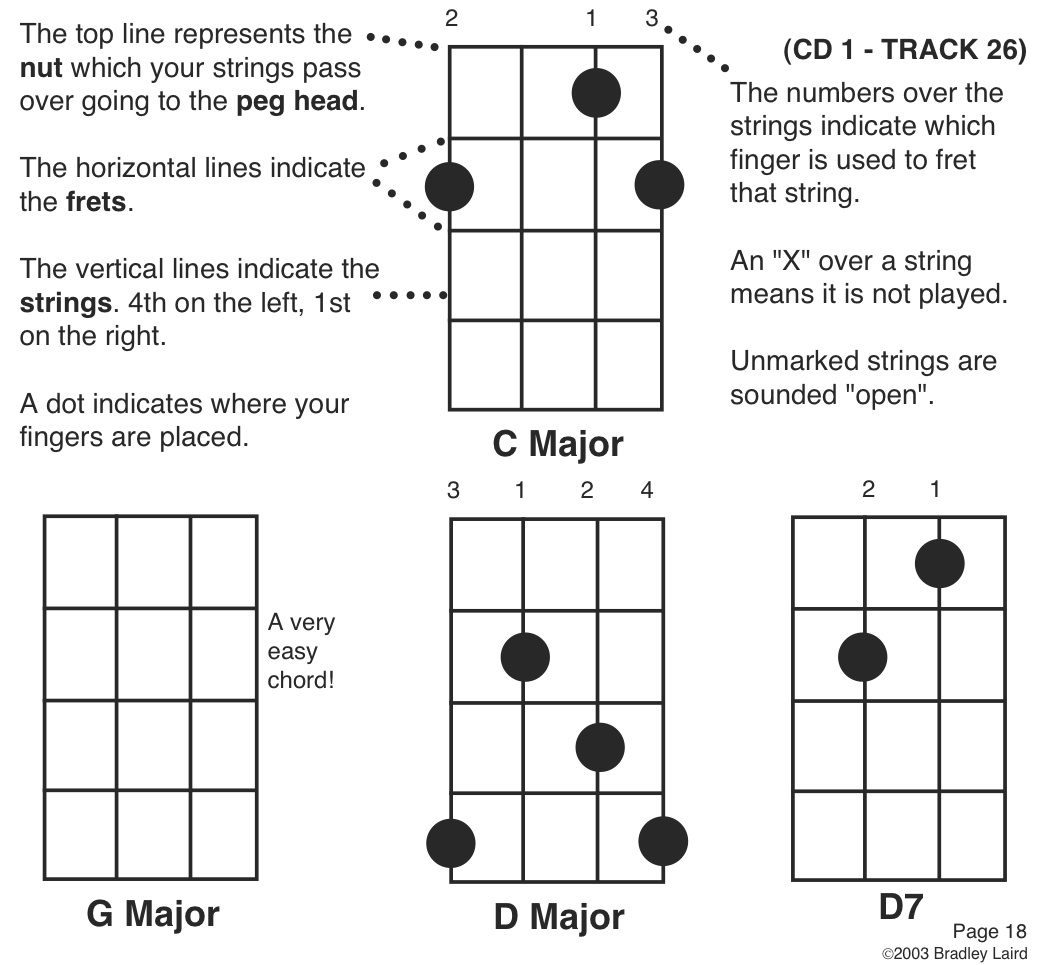 (Note: This is a scan right from the pages of my book. Perhaps one of these days I will open these images in Photoshop and remove those bogus page numbers. But, they do bear witness to the fact that I am giving you a free how to play the banjo book! So, maybe I will leave them in.)
The 5th string is not shown in these chord charts since, most of the time, we just let it drone away on a G note. Test it with each chord you learn. If you like the sound of it, play it. If you don't, well... don't. (Funny thing though, often the 5th string sounds "funny" with a chord when you strum it, but sounds fine when you include it in picking rolls. You'll soon hear what I am talking about if you hang in here.)
Bear in mind that often you will only be playing PART of the notes of the chord while picking out a tune. A good example of this is found in measure #2 of the A-Part of Cripple Creek where you hold two fretted notes that are part of the C chord. Go back and look at it and compare to the C chord above. That's what I am talkin' about.
---
If learning to play using tablature and chord charts is giving you fits try my Play Banjo By Ear video course:
| | |
| --- | --- |
| | These 5 video lessons (over 2 hours total) might be just the thing to make it all "click" for you. I have discovered that not everyone's brains operate the same way. For some people, especially in the early stages of learning, printed tab and chord charts just looks like "chicken scratchin'" and TAB just gets in the way of learning. These videos are a "monkey see, monkey do" method and you should try it and see if it works for you. |
---
The people are clammoring for more chords! They are HERE in lesson 16.
All of my banjo books are downloadable eBooks. Get 'em today!
Free DHTML scripts provided by
Dynamic Drive