FREE BANJO LESSONS Bradley Laird's Free Bluegrass Banjo Lesson site is here!
---
---
---
FREE GUITAR LESSONS Bradley Laird's Free Bluegrass Guitar Lesson site is here!
---
---
©2015 Bradley Laird
---
FREE CHORD PROGRESSIONS - by Bradley Laird
Little Maggie

This song is often a beginner's first reason to finally tackle the F chord.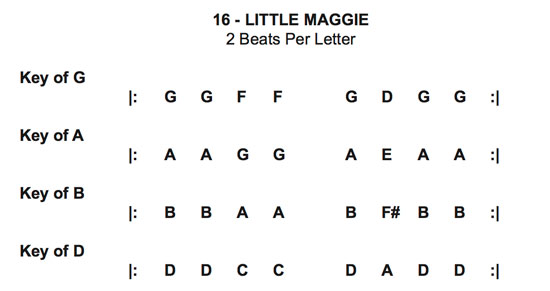 *The observant person will notice that, if you change the F chord to a C chord, the chord progression in the verse is EXACTLY the same as Nine Pound Hammer. See my pages on how to use a capo and how to transpose for more information if those four keys above are insufficient.
---
Download the PDF File: All 100 of the chord progressions from this site are available as a PDF file for printing on 8.5" x 11" pages. The download file includes 90 additional jam session favorites not shown on the website. Get information by clicking here.
---
Additional Learning Resources:
Brad's Free Bluegrass Banjo Tab for Little Maggie
The Bluegrass Fakebook by Bert Casey has the Chords, Lyrics and Melody to Little Maggie, along with 149 more bluegrass songs.
The Let's Jam Country & Bluegrass CD includes Little Maggie
---
Back to Index of Chord Progressions
Follow Me