FREE BANJO LESSONS Bradley Laird's Free Bluegrass Banjo Lesson site is here!
---
---
---
FREE GUITAR LESSONS Bradley Laird's Free Bluegrass Guitar Lesson site is here!
---
---
©2015 Bradley Laird
---
FREE CHORD PROGRESSIONS - by Bradley Laird
Whiskey Before Breakfast
Generally speaking, drinking whiskey that early in the day is a very bad idea. But it is a most fine tune and it pops up at nearly every jam session. Always in the key of D.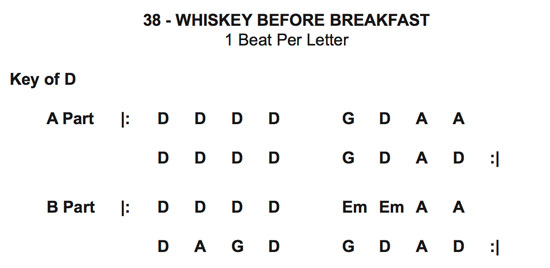 *This one is always in D. However, once again, some guitar players and banjo pickers prefer to play it "out of C position" with their capos at the 2nd fret. See my pages on how to use a capo and how to transpose for more information if you want to convert the chords to the key of C.
---
Download the PDF File: All 100 of the chord progressions from this site are available as a PDF file for printing on 8.5" x 11" pages. The download file includes 90 additional jam session favorites not shown on the website. Get information by clicking here.
---
Additional Learning Resources:
Bradley Laird's Free Key of D Mandolin Chord Charts
Bradley Laird's Mandolin Video Lesson: Whiskey Before Breakfast
Geoff Hohwald's Video Banjo Lesson: Whiskey Before Breakfast
Curtis Jones' Jam Tracks Collection with Whiskey Before Breakfast

---
Here is a YouTube video I made of me playing around with Whiskey Before Breakfast on my mandolin:
---
Back to Index of Chord Progressions
Follow Me