FREE BANJO LESSONS - by Bradley Laird
LESSON 9

Another Exercise (MP3 TRACK 7)
In this exercise you will combine the fretted note rolls with the thumb-pinch lick. Just hold down your left middle finger just behind the 2nd fret on the 3rd string. You need to curl your middle finger a bit so that you don't mute or bump the 2nd string. Use the tip of your finger to press the string down. Of course, you release the finger and allow it to rise slightly above the 3rd string when you get to that final thumb pinch. Those repeat signs mean... well, repeat. Perhaps fifty thousand times! Buy ear plugs for your family and just keep pickin' it--nice and steady.


The Slide (MP3 TRACK 8)
This slide is done by fretting a note with a left hand middle finger and then, after it is picked by the right hand, you slide the fretting finger up to another note. In this slide you will go from the second fret of the third string up to the third fret. Other than the slide, it is exactly like the exercise in Track 7. After you slide up to the third fret, lift your finger off of the string and move it back in place for the next slide.

Make sure you get a good clean first note (the 2nd fret note) before you slide up. The timing of landing the slide at the 3rd fret should coincide with your second picked note. Here is a free video I made which shows you more about slides on the banjo:
That video is a clip from my "Play The Banjo By Ear" video course. You'll see more info about those videos below if you think they could help you.
4th String Roll (MP3 TRACK 9)
This is the same old Thumb In and Out Roll--just do it starting on the 4th string.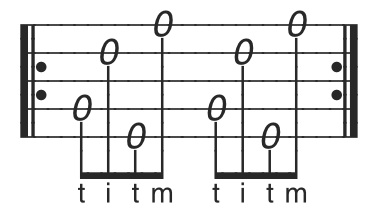 ---
If learning to play using tablature is giving you fits try my Play Banjo By Ear video course:
| | |
| --- | --- |
| | These 5 video lessons (over 2 hours total) might be just the thing to make it all "click" for you. I have discovered that not everyone's brains operate the same way. For some people, especially in the early stages of learning, printed tab and chord charts just looks like "chicken scratchin'" and TAB just gets in the way of learning. These videos are a "monkey see, monkey do" method and you should try it and see if it works for you. |
---
All of my banjo books are downloadable eBooks. Get 'em today!
Free DHTML scripts provided by
Dynamic Drive