FREE DULCIMER LESSONS - by Bradley Laird
OPEN STRUMMING
Before fretting any notes I would like you to ignore the numbers shown on the tab and play every note as if it were marked zero. We will strum across the strings in time with the music. We are practicing only the right hand strums with all "open" strings. Strum across all of the strings on each note. In this example all of the notes are strummed away from the body.

Here is a track which allows you to hear what this open strumming sounds like. This is Track 2 from the complete Ebook Dulcimer Instruction Course.
I am still not convinced that I should part with some of my spare change and get your downloadable Ebook! I want more free stuff! Take me to free lesson 8...
---
After you try these free lessons you might also enjoy my complete downloadable PDF eBook which teaches 10 songs in 3 different tunings using strums and a little finger picking too. It comes with 17 MP3 tracks too! Fun stuff! You can read about it here.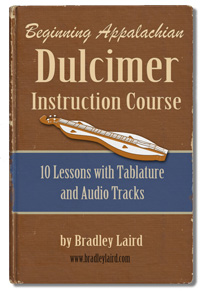 ---
Back to Index of Free Dulcimer Lessons