FREE DULCIMER LESSONS - by Bradley Laird
FRETTING THE MELODY STRING
The traditional way of pressing the melody string down to the fret is to hold a small wooden dowel called the "noter" in the left hand. When using the noter you generally only depress the melody string. I hold it like this: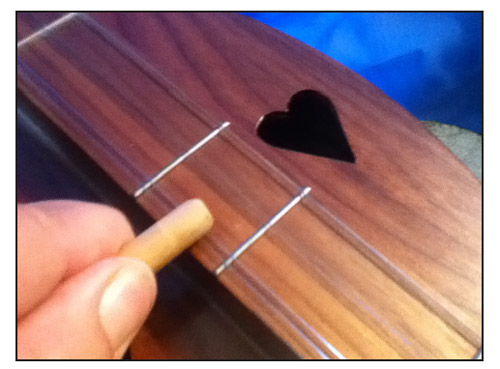 Notes are always fretted just to the left side of the fret NOT directly on the fret.
OTHER METHODS OF FRETTING
If you prefer, and I often do depending on the type of song, you may also use your left hand fingers to fret the melody string. You can use a single fingertip, the side of your thumb or fingers and thumb.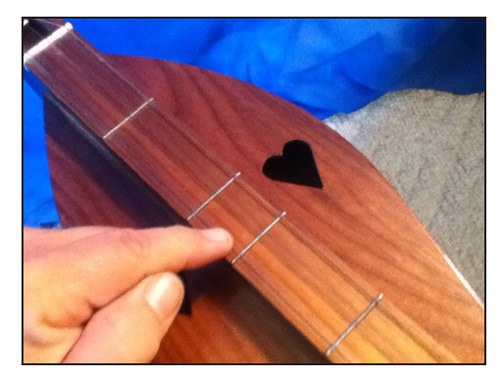 When I am not using the wooden noter, I typically play notes by using the thumb, index and ring finger much like a pianist would do when playing.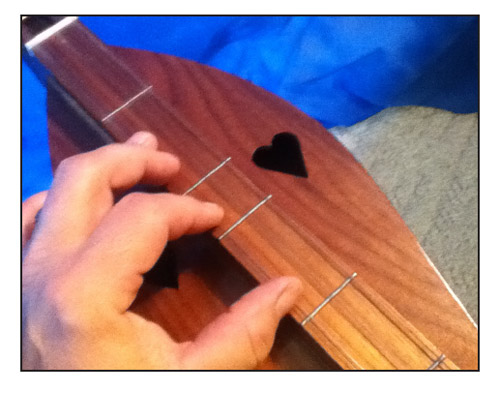 Try all of the methods shown for fretting notes and use which ever method suits you at any particular moment. I like the sliding sound created by the wooden noter as it glides up and down the fret board. It is usually not raised off of the melody string when moving from one fretted note to another. This works really well on quicker "fiddle tunes". On slower tunes, and certainly if you choose to fret the bass and middle strings, the fingers are the better choice for fretting.
I'll bet that Ebook is great, but take me to free lesson 9 instead...
---
After you try these free lessons you might also enjoy my complete downloadable PDF eBook which teaches 10 songs in 3 different tunings using strums and a little finger picking too. It comes with 17 MP3 tracks too! Fun stuff! You can read about it here.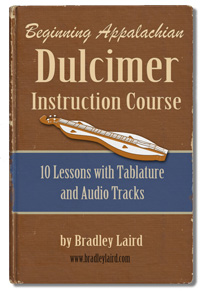 ---
Back to Index of Free Dulcimer Lessons