BLUEGRASS GUITAR 101 eBook - by Bradley Laird
I created this downloadable PDF eBook to help beginners (or players of other styles) understand bluegrass rhythm guitar by learning 10 popular bluegrass songs. These are songs you'll hear them at most jam sessions. There is a link for a free preview below.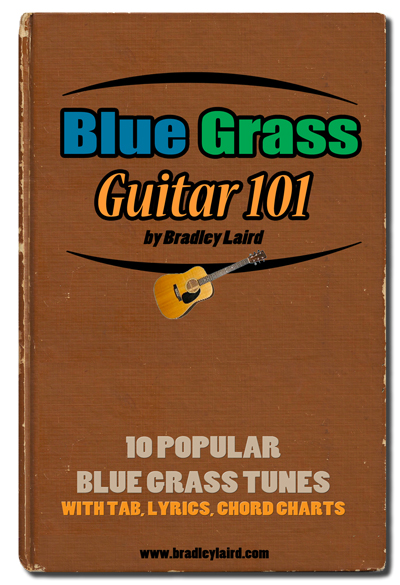 About Blue Grass Guitar 101
This eBook by Bradley Laird will teach you how to play bluegrass style rhythm guitar. The book presents 10 songs in guitar tablature along with chord charts and explanations. If you've been using my free bluegrass guitar lessons this is the obvioius next step to becoming a proficient player.
When you learn to play these songs you'll be ready to play hundreds of other bluegrass, traditional county, or "old time" songs.
The book can be downloaded instantly anywhere in the world and includes:
• Basic versions of ten songs with chord charts and tablature
• Extra versions of many of the songs with added bass runs or licks.
• Eight of the songs include the melody and lyrics (on a page with large print) so you can learn to sing them too!
Special Feature: Learn to sing harmony!
The eBook includes a section which fully explains how to sing bluegrass harmony. One of the songs is used as an example to teach you the principles so you can find the lead, tenor and baritone parts on your own. You'll also learn different options for stacking the harmonies such as high lead and high baritone.
All of the techniques and knowledge gained are useful for traditional country, "old time" and gospel music too!
Download your copy of this informative and easy to understand PDF eBook today by clicking on this link. (You can take a look at a free preview there too!)
---
Click here to download or to view a preview: