FREE GUITAR LESSONS - by Bradley Laird
LESSON 4 - THE G AND D CHORDS
Let's look at that same chart again and I will once again walk you through how to play it with the left hand...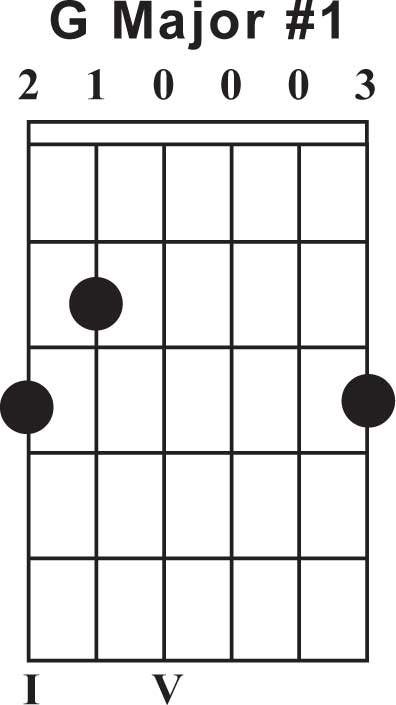 With your left hand you would use your 2nd finger to depress the 6th string (that's the fat string, farthest to the left) just behind the 3rd fret. Your index frets the 5th string at the 2nd fret and your ring finger frets the 1st string at the 3rd fret.
Hold all of the fingers down firmly behind the fret and then strum all 6 strings. That is a G major chord.
You will sometimes see an "X" written above a string like this: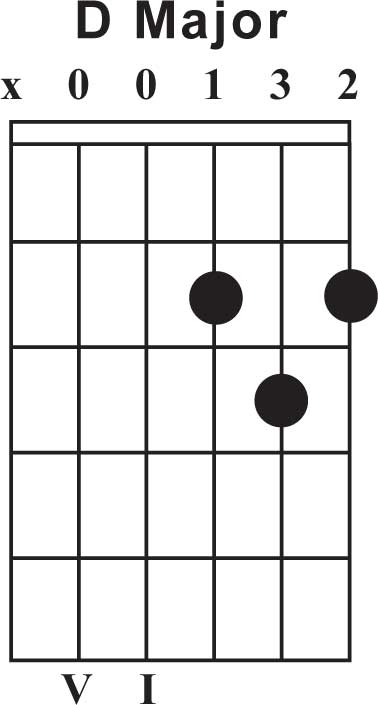 That means, very simply, that you do not play that string.
Okay, so that takes care of the basics of reading chords charts for guitar. In case it is not perfectly clear, the thickest string on your guitar is the "6th string" and is on the far left on the charts. The thinnest string is the 1st string and it is the vertical line on the far right. So, the strings are numbered 6,5,4,3,2,1 from left to right on the charts. Try playing those two chords a few dozen times and then keep on truckin' over to Lesson 5.
Brad Laird's Bluegrass Jam Session Survival eBook

The chords progressions for the 100 most popular bluegrass jam session tunes. Stop missing chord changes, sound better and have more fun. If you don't need it you probably know someone who does!

Includes chord charts for banjo, mandolin and guitar and bass patterns for all major and minor chords. Click here for more information on the downloadable PDF eBook.