FREE GUITAR LESSONS - by Bradley Laird
FREE BLUEGRASS GUITAR TAB - CRIPPLE CREEK RHYTHM & RUNS
The first tab illustrates what basic bluegrass rhythm for this song looks like in tablature and standard notation. Notice that you are playing "in G" but using a capo at the 2nd fret to sound in the key of A. Of course, it can be played in G but most fiddle and mandolin players prefer it in the key of A. (See this information on how to use a capo if that needs clarification.)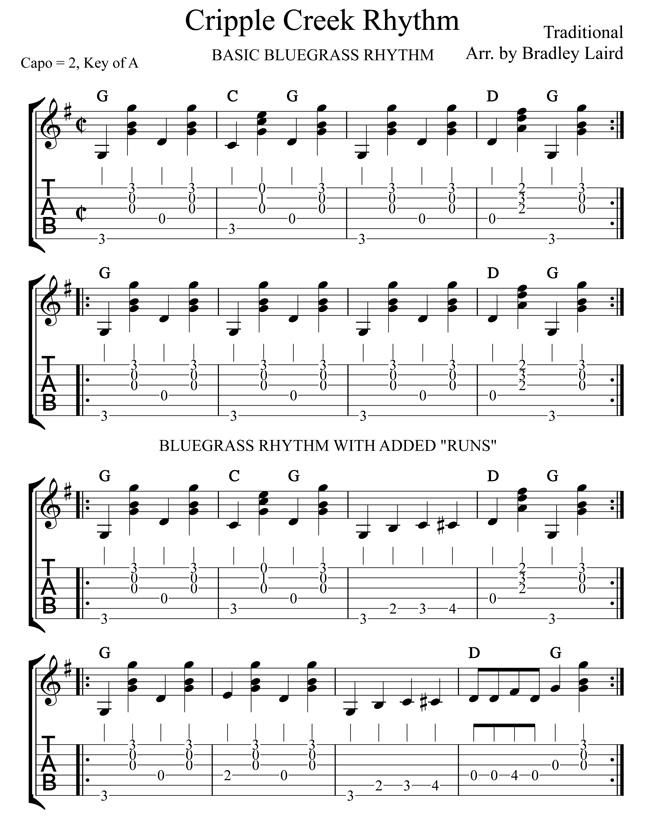 The second version throws in some walking bass runs to approach the D chord. In the second half you use the walking quarter notes to get to the D chord and then a little 4 note, 8th note run is tossed in. All of the quarter notes are played with downstrokes of the pick, but when you get to the four 8th notes they are played down-up-down-up.
Bear in mind that the runs are just examples of the many types of runs which can be inserted into your rhythm playing. Learn these and then use them sparingly. If you play the same run over and over and over it will get very monotonous. If you toss them in unexpectedly they will sound great!
Want to learn more songs like this? Check out my downloadable PDF eBook:
Brad Laird's Blue Grass Guitar 101 eBook

Learn bluegrass style rhythm guitar and "bass runs" by playing these 10 tunes. (Tab, standard notation and chord charts provided.) Also the lyrics and lead sheets.

Includes a course in singing 2 or 3 part bluegrass harmony. Click here for more information on the downloadable PDF eBook.
Back to Index of Free Guitar Tabs