FREE GUITAR LESSONS - by Bradley Laird
FREE BLUEGRASS GUITAR TAB - JENNY LYNN
Here is a basic flatpicking solo for the tune Jenny Lynn. It is said by some that this old tune may have been named for the Swedish opera star Jenny Lind. Bill Monroe says, in his song Uncle Pen, that "the greatest of all was Jenny Lynn" when speaking of Pendleton Vandiver's best fiddle tune.
My advice is to play all of the quarter notes with downstrokes and the pairs of 8th notes down-up. That dotted quarter followed by an 8th note in the next to last measure should be played: down on the dotted quarter and up on the 8th.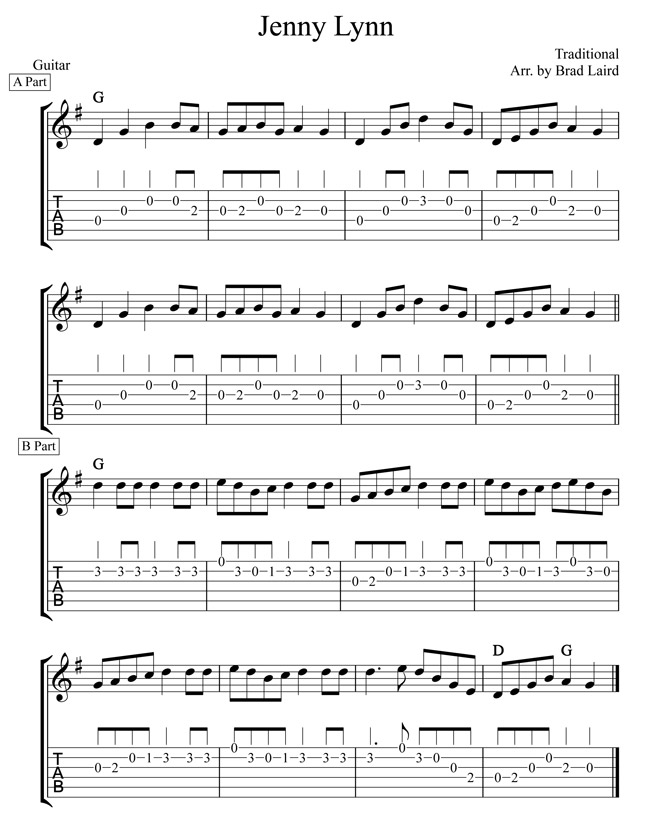 Note: Most fiddlers play this in the key of A. Just slap a capo on the 2nd fret and you'll be in A too. Here is some free information on using a capo which I prepared.
Brad Laird's Blue Grass Guitar 101 eBook

Learn bluegrass style rhythm guitar and "bass runs" by playing these 10 tunes. (Tab, standard notation and chord charts provided.) Also the lyrics and lead sheets.

Includes a course in singing 2 or 3 part bluegrass harmony. Click here for more information on the downloadable PDF eBook.
Back to Index of Free Guitar Tabs