---
LINKS TO MY OTHER FREE LESSON SITES:
• Mandolin
---
©2016 Bradley Laird
---
FREE GUITAR LESSONS - by Bradley Laird
FREE BLUEGRASS GUITAR TAB - FLORIDA BLUES
Here is a basic flatpicking solo in the key of C. Some folks play it in D, so to do that just put your capo on the 2nd fret.
This arrangement is in the style of the legendary Doc Watson. My suggested left hand fingerings are written above the tab. It's worth learning this for that really cool run that goes from G back to C in the last four bars.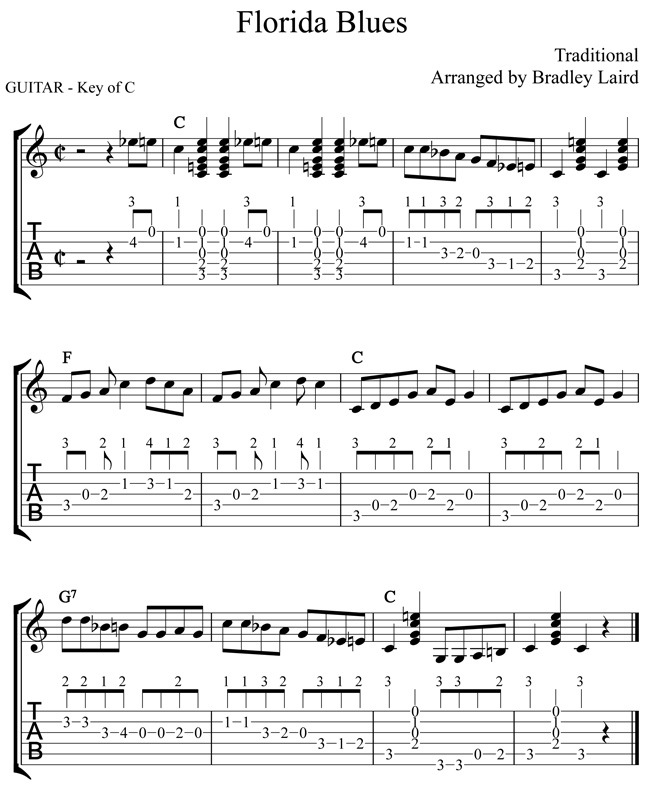 Brad Laird's Bluegrass Jam Session Survival eBook

The chords progressions for the 100 most popular bluegrass jam session tunes. Stop missing chord changes, sound better and have more fun. If you don't need it you probably know someone who does!

Includes chord charts for banjo, mandolin and guitar and bass patterns for all major and minor chords. Click here for more information on the downloadable PDF eBook.
Back to Index of Free Guitar Tabs