FREE MANDOLIN VIDEO LESSON
BASIC CHOP CHORDS by Bradley Laird
In this free mandolin video lesson I'll show you how to play 3 and 4 finger versions of the G chord. This is a logical extension of what you learned in Easy Mandolin Chords. You'll learn how, by fretting more strings, you will be able to 1) move the chord shapes around and 2) will be able to create more percussive rhythmic sounds.
Here are the chord charts for this lesson: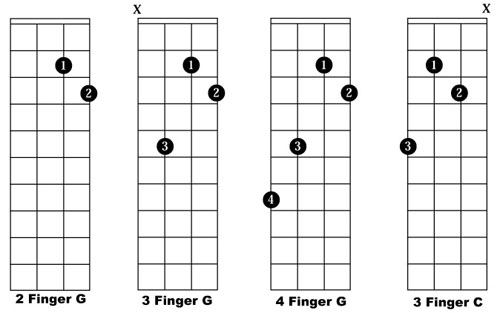 Personal note about the above video: This was one of the first formal videos I shot in the Watch & Learn studio using a teleprompter and a script. When I started, I used to write a detailed word-for-word script. A script really helps you say exactly what you mean to say but I was still getting the hang of reading it and having it come off "natural sounding." Just like playing an instrument, "acting" also takes a lot of practice! Thankfully, I got better at it as time went on. Later I switched to only scripting the "head shots" and using bullet points to remind me of the teaching topics for the closeups.
They used to shoot these videos early in the morning and sometimes, if I had a late gig the night before, I would look like I just rolled out of a gutter. They were too cheap to have a makeup artist and a hair stylist and I hope you enjoy, for the sake of a chuckle, my variously goofy hair as you go through my videos.
When you complete the above lesson I strongly encourage you to study: Moveable Major & Minor Chords and Barre Chords & 7th Chords. While you are on a roll you might as well go all the way. Once you've completed those two lessons you'll be set to play just about any chord which comes your way. Over the coming years you will spend a lot more time playing chords and rhythm so it is a pretty important skill.
Click on the image below to read about them, watch free the demos and decide for yourself: