FREE BANJO LESSONS - by Bradley Laird
LESSON 1

Introduction to Playing the Banjo

This course teaches all the basic methods and techniques for playing bluegrass style 5-string banjo. The course is divided into lessons which progressively add new songs and techniques. It is suggested that you learn each lesson in order and accomplish everything in it to your satisfaction before moving ahead to the next lesson. Here and there, throughout these lessons, I will link to some free online video lessons which will help you visualize, hear and understand more about what you are learning.

New terms will pop up now and then and you will find the definitions of these terms in the glossary at the end of the course.

Listening to the MP3 audio tracks can help you understand the timing, tone, and rhythm of each song or exercise. Yep, that's me playing my Stewart-MacDonald 3R Kit Banjo which I built in 1978. Five Star head, home-made dogwood bridge, Kerchner tailpiece, mahogany neck and resonator, rosewood fingerboard, beech rim, aluminum 4-plate flange (true!) and flat head, no holes, bell bronze tone ring. I have owned a few other banjos but this one always sounded the best to me. But, I am getting off track. Back to these lessons...
Exercises and songs which have audio tracks will have a link like this: (MP3 TRACK 18)

Parts of the Banjo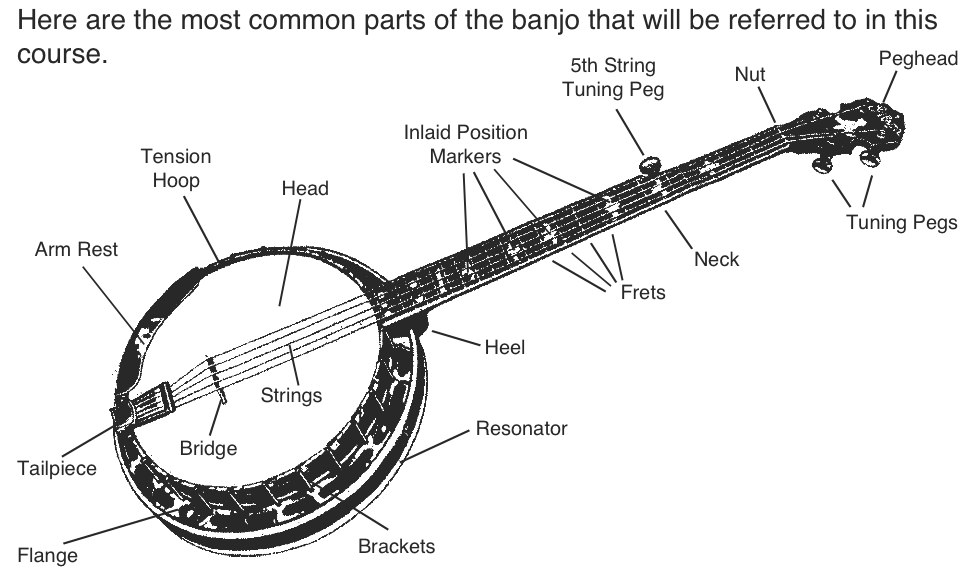 When you are ready, move on to Lesson 2.
All of my banjo books are downloadable eBooks. Get 'em today!
Free DHTML scripts provided by
Dynamic Drive