FREE BANJO LESSONS - by Bradley Laird
LESSON 12

Cripple Creek - Complete Song (MP3 TRACK 21)
Here are both parts to "Cripple Creek". You've already learned the B Part.
Important Note - The A Part has two different endings. The first ending is numbered "1." and the second is numbered "2." The reason they are different is because in order to repeat the long slide as you come back to the beginning you need to play that 2nd fret note.
The second ending leads you on to the B Part so that note is not needed. You play from the beginning to the repeat sign at the end of the first ending. Then you go back to the first repeat sign and play up to the start of the first ending--but skip over the first ending-- and play the second ending. Then you go directly into the B part--which is played twice.
If that sounds confusing, simply think of the measures marked 1. and 2. as alternate endings. Don't play them both back to back. Another idea is to listen to the track above and follow along with the tab. You'll get it!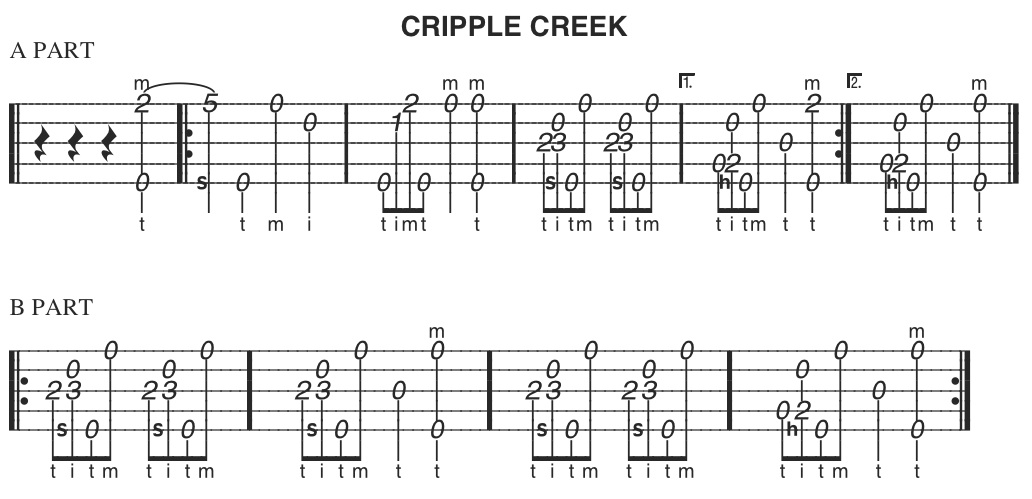 A Word About Speed
It is important, at this stage of learning, to concentrate on playing each note cleanly and to keep your rhythm good and steady. Speed will come later. Whenever you are practicing and make a mistake, slow it down and practice it until you can play it perfectly. If you let mistakes slip by, in an effort to speed up, you will simply give your fingers practice at playing badly. Slow down.
About the Recorded Tracks
On some of the audio tracks you'll hear me refer to page numbers. These were recorded when this was a physical, paper and ink book. It is now available as a digital PDF eBook. Those references refer to the eBook "Banjo Instruction Course". On the website ignore the references such as "Now, we're on the bottom of page 19" etc.
---
If learning to play using tablature is giving you fits try my Play Banjo By Ear video course:
| | |
| --- | --- |
| | These 5 video lessons (over 2 hours total) might be just the thing to make it all "click" for you. I have discovered that not everyone's brains operate the same way. For some people, especially in the early stages of learning, printed tab and chord charts just looks like "chicken scratchin'" and TAB just gets in the way of learning. These videos are a "monkey see, monkey do" method and you should try it and see if it works for you. |
---
All of my banjo books are downloadable eBooks. Get 'em today!
Free DHTML scripts provided by
Dynamic Drive
Here is a little video demonstration of this exact version of Cripple Creek...
On to lesson 13 and the infamous "Pull Off".