---
LINKS TO MY OTHER FREE LESSON SITES:
• Mandolin
---
©2016 Bradley Laird
---
FREE GUITAR LESSONS - by Bradley Laird
FREE BLUEGRASS GUITAR TAB - CRIPPLE CREEK
Here is a good, basic flatpicking solo for the tune Cripple Creek. Tab for "rhythm only" and "rhythm with runs" is on the site here.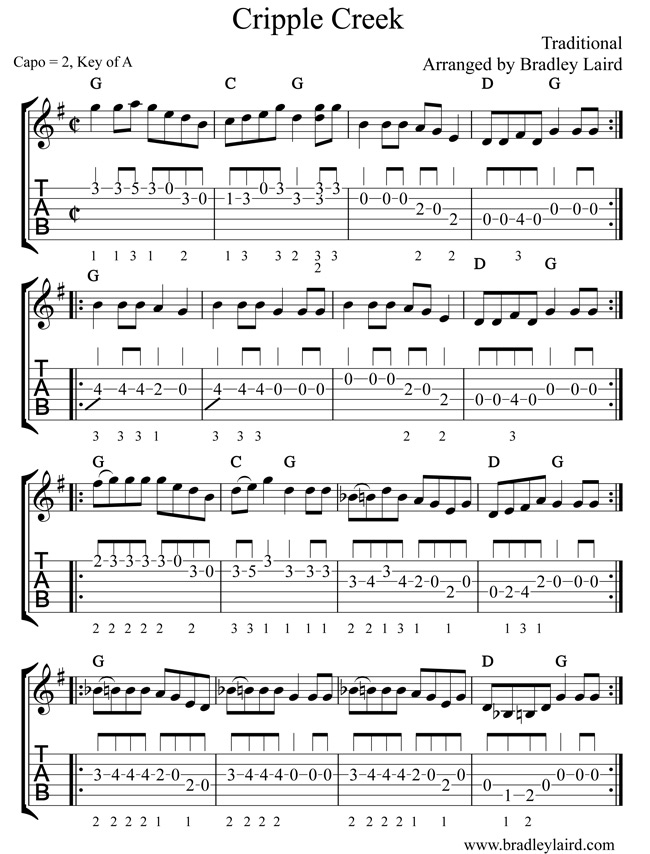 Note: The numbers under each note indicate the preferred left-hand finger to use to fret the note. Also, I have indicated "Capo 2" because most mandolin and fiddle players play this tune in the key of A. You can learn it in G, but get a capo and learn how to use it. To play bluegrass guitar you WILL need one. Here is some free information on using a capo which I prepared.
Back to Index of Free Guitar Tabs