FREE MANDOLIN TABLATURE from Bradley Laird
---
A nice fellow named Keith sent me an email asking if I had the tab for the version of Boil 'Em Cabbage Down which I played in my free video called "Rhythm Basics." In that video I give an explanation of what each instrument's role is in the overall bluegrass ensemble sound. At the end I just "made up" a little solo and played it.
Keith assumed I must have played it from some written tablature I had prepared in advance. I thought it might a good quick test of my transcribing skills to watch the video again (after 7 years or so!) and see how quickly I could put what I played on paper. I confess it took 3 or 4 viewings of the video and about 15 minutes to get it into this form: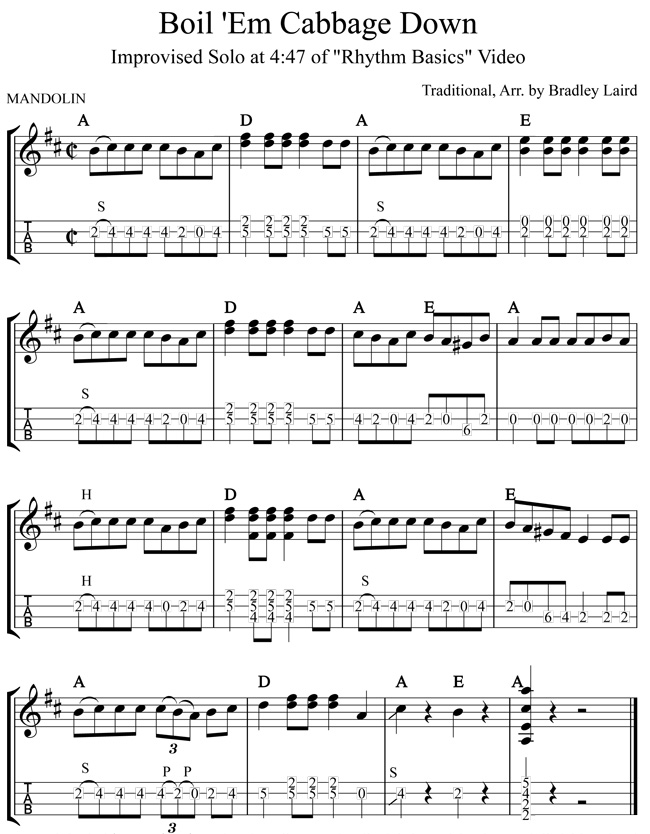 So, for Keith who was so kind as to inquire about this humble "improvised" solo, and for anyone else who might like it, I decided to post this here.
The video in which this solo appears is found here with the title "Rhythm Basics." Have fun!
Brad Laird's Beginning Mandolin Instruction Course

Click here for information about my downloadable PDF eBook which expands on the free lessons here on the site.

Larger tablature, more tunes and chords, printable full page format PLUS AUDIO TRACKS of all of the songs and exercises.
Back to free mandolin tablature list