Take a stroll on the campus of...

---
---
©2016 Bradley Laird
---
FREE MANDOLIN TABLATURE from Bradley Laird
---
Here is cool tune in 6/8 time called Garryowen (Gary Owen, Garry Owen) for the mandolin. 6/8 time is played with six 8th notes per measure instead of the usual eight. I play those six notes down-up-down-up-down-up.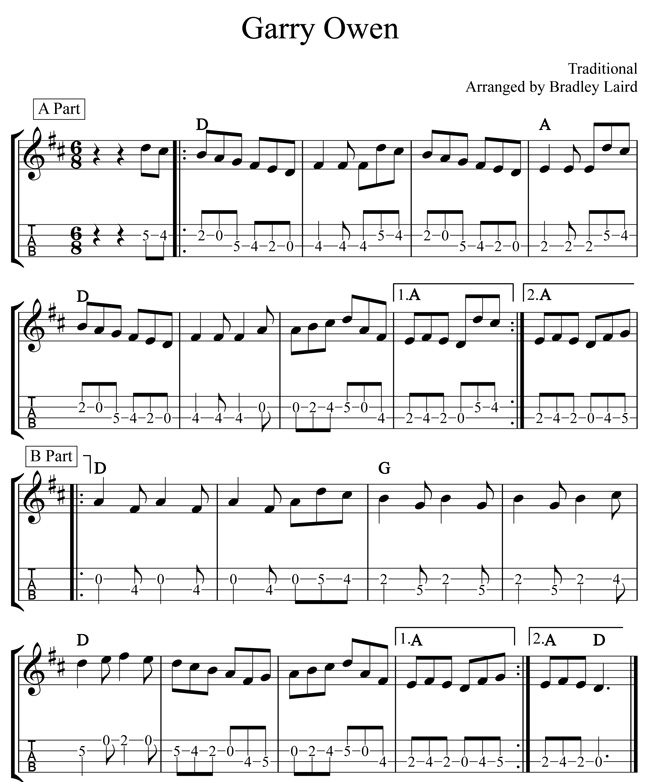 When I was a senior in high school I did a "history" project for school talking about the wars of the United States versus the native americans (we used to call them indians) and I discovered that this tune, Garry Owen, was Custer's favorite song and was often played by his military band during attacks and so forth. It is the regimental march of the 7th cavalry (and some others.) So, I had some of my trumpet playing friends come into class and play an arrangement of the tune I put on paper--just for added effect--while I told of the battle of Washita. I got a lousy B for my efforts.
Brad Laird's Beginning Mandolin Instruction Course

Click here for information about my downloadable PDF eBook which expands on the free lessons here on the site.

Larger tablature, more tunes and chords, printable full page format PLUS AUDIO TRACKS of all of the songs and exercises.
Back to free mandolin tablature list