FREE MANDOLIN TABLATURE from Bradley Laird
---
Here are a pair of "Irish flavored" tunes I wrote. I like to play them as a two tune set. The first tune is a pretty easy one. I play it with a little "swing" and the only tricky item is the 4th fret hammer-on in the B part. All of the fingering is standard 1st position stuff.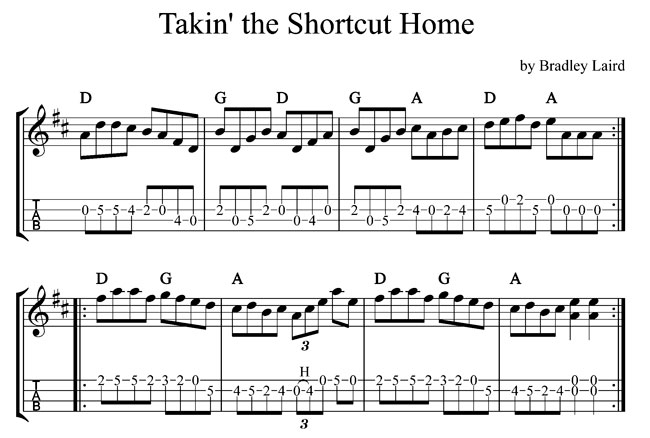 The second tune of my little Irish set is a little more challenging because you must use your 4th finger on a couple of 7th fret notes. The only other thing which might need to be explained is in the 2nd and 6th measures of the B part. That little slanting line in front of the 4th fret note just means to slide into it from below. Then you have a double pull-off. Some of my video lessons cover that idea so I will skip the explaining it here.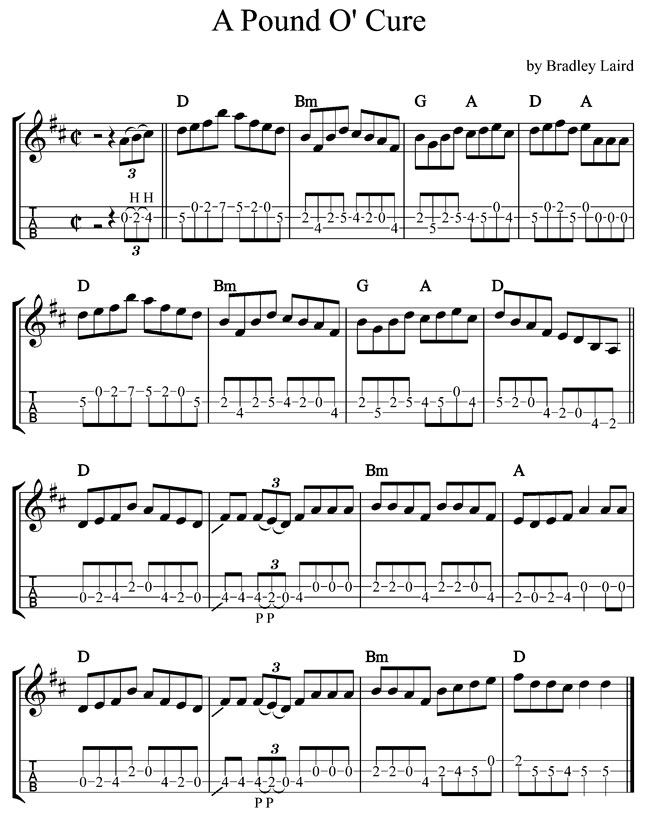 Here is a recording I made of the two tunes back to back. I begin the set with a little intro riff I made up (you'll have to figure that part out on your own) and then I launch into Takin' The Shortcut Home. Then, it's two trips through A Pound O' Cure. Have fun picking! Here's the audio: Takin' The Shortcut Home and A Pound O' Cure by Bradley Laird
If your mandolin playing isn't yet up to the task of playing these tunes, I can fix that! Please take a look at this:
Brad Laird's Beginning Mandolin Instruction Course

Click here for information about my downloadable PDF eBook which expands on the free lessons here on the site.

Larger tablature, more tunes and chords, printable full page format PLUS AUDIO TRACKS of all of the songs and exercises.
Back to free mandolin tablature list