FREE MANDOLIN VIDEO LESSON
SALLY GOODEN CHORDS & RHYTHM by Bradley Laird
In this free video lesson you'll learn to play the chords and rhythm for the song Sally Gooden. The secret to getting a woody sounding chop is explained and how to accomplish that little finger reach. We'll practice it together at two speeds.
Here are the chord charts for this lesson: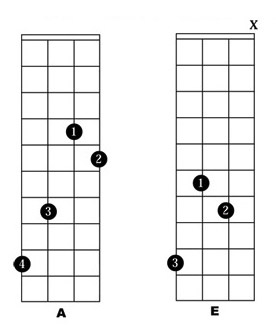 Here is a direct link to the lesson I mentioned in the video: Sally Gooden Tune & Variations. The basic version is not too difficult and you'll learn 4 ways to play it.
You might also want to take a peek at my beginning mandolin video series. Thousands of people have learned to play using these videos because they really work! In particular are my two most popular chord videos: Moveable Major & Minor Chords and Barre Chords & 7th Chords. If you need some help "in the picking department" Beginning Videos 1-4 might be just what you need! Click on the image below to read about them, watch free the demos and decide for yourself: