FREE BANJO LESSONS Bradley Laird's Free Bluegrass Banjo Lesson site is here!
---
---
---
FREE GUITAR LESSONS Bradley Laird's Free Bluegrass Guitar Lesson site is here!
---
---
©2015 Bradley Laird
---
FREE CHORD PROGRESSIONS - by Bradley Laird
Cripple Creek

This probably one of the first tunes everyone learns to play on the banjo. You might remember the melody because it was the song played during the "I'm a pickin and I'm-a-grinnin" portion of the old TV show Hee Haw.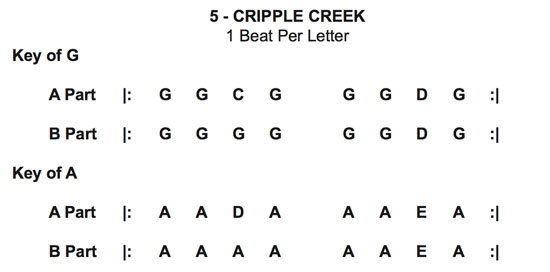 *Banjo players usually play this out of "G positions" with a capo at the 2nd fret putting them in the key of A, in terms of sound. That matches up with the fact that most fiddlers and mandolin players play the song in the open key of A. See my pages on how to use a capo and how to transpose for more information.
---
Download the PDF File: All 100 of the chord progressions from this site are available as a PDF file for printing on 8.5" x 11" pages. The download file includes 90 additional jam session favorites not shown on the website. Get information by clicking here.
---
Additional Learning Resources:
Bradley Laird's Mandolin Video Lesson: Cripple Creek - Tune & Variations
Free Clawhammer Banjo Tab for Cripple Creek
Free Bluegrass Banjo Tab for Cripple Creek
---
Here is a YouTube video I made so you can practice jamming on the song Cripple Creek:
Back to Index of Chord Progressions
Follow Me