FREE BANJO LESSONS - by Bradley Laird
LESSON 3
Right Hand Position
The right forearm should comfortably extend around the side of the instrument and the wrist should be loosely bent and allowed to drop down until your ring and/or little finger is resting on the head about 1/2" below the first string and about 1/2" in front of the bridge.
To better understand how the wrist is arched, hold your right arm straight out in front of you with your palm down. Now, allow your wrist to relax and your hand to "flop" down. Now, lower your arm into playing position. Did your wrist stay relaxed? You should bend at the elbow and the shoulder joints to allow the loose wrist to come into position touching the head.
The right hand should be hanging by its own weight and the ring finger touching on the head. If you notice your wrist joint tightening up and your arm beginning to become straight--which will cause your elbow to stick out--let it hang down loosely.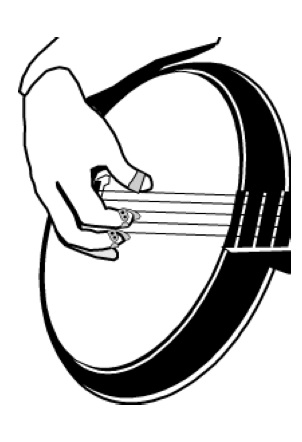 Left Hand Position
When fretting notes with the left hand fingers, or when forming chords, you should touch the strings just behind the fret and then press down firmly. Use curved fingers and avoid touching adjacent strings when fretting a note. The thumb of the left hand should be touching the back of the neck and you should (most of the time) avoid allowing the back of the neck to rest in your left palm.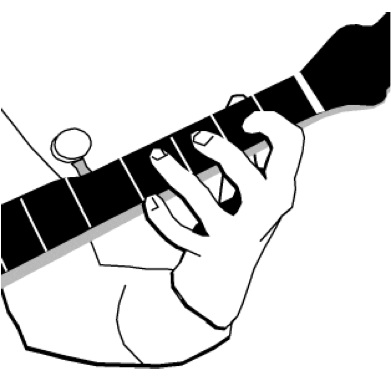 (Illustrations © Bradley Laird )

Continue to Lesson 4.
All of my banjo books are downloadable eBooks. Get 'em today!
Free DHTML scripts provided by
Dynamic Drive
---