FREE BANJO LESSONS - by Bradley Laird
LESSON 8

Combining The Roll & The Thumb-Pinch (MP3 TRACK 4)
In this exercise we will combine the two. Play this exercise over and over until it is smooth. Notice that the thumb-pinch consists of only two notes--but fills the same amount of time as the four notes of the roll. The roll contains four eighth notes and the Thumb-Pinch contains 2 quarter notes.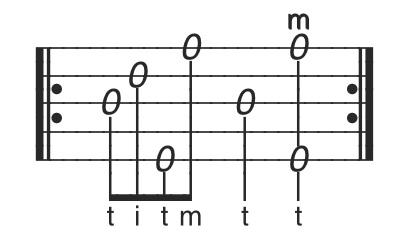 Another Roll & The Thumb-Pinch Exercise (MP3 TRACK 5)
In this exercise you will play the four note roll three times and then the thumb-pinch lick.


Fretting a Note in the Roll (MP3 TRACK 6)
Here you will use the second finger of your left hand to fret the third string just behind the second fret. Notice that the tablature shows a number "2" on the third string. The rest of the notes are "open" and are marked with zeros.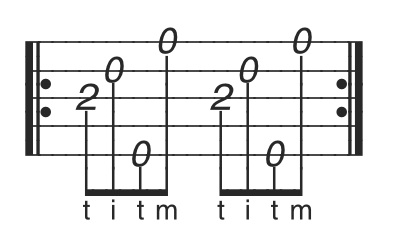 Don't worry! We'll be picking some actual banjo tunes very soon. We are just building some basic technique to get you ready.
All of my banjo books are downloadable eBooks. Get 'em today!
Free DHTML scripts provided by
Dynamic Drive