When you are ready, explore my hoard of mandolin instructional videos and eBooks here: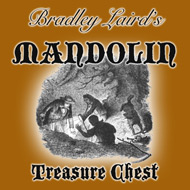 4 decades to create, 12 years to assemble. All in one place.
---

---
©2018 Bradley Laird
---
FREE EASY BEGINNER MANDOLIN CHORD CHART
This is a set of basic beginner mandolin chords. Start here and when you learn them go back and start learning to play the other chord sets. Be sure to watch the free videos on this page which show you how to play easy mandolin chords.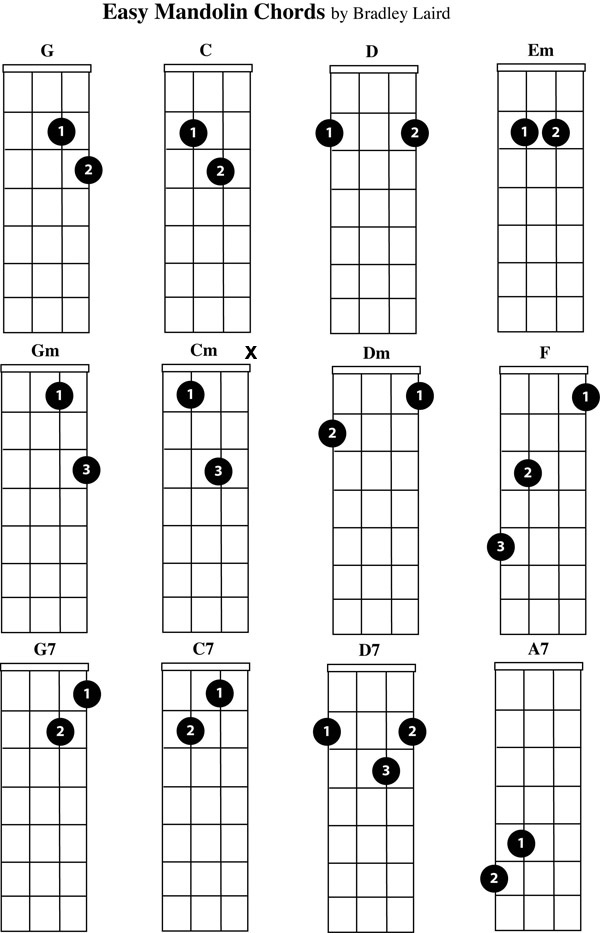 Note: An X over a string means don't play that string. See Cm as an example. It's just a 3-string form.
Of all the chords shown above the Em can be the most difficult if you have large fingers. Some folks, who find it difficult to fit the tip of the index and the middle finger in that small space, play it using only the tip of the index finger. You must rotate your wrist a bit, moving so that your fingernail side of your finger is more squared up to the frets, but you may find that easier.
I also invite you to consider this series of beginner video lessons. Thousands of people have learned to play using these videos because they really work! In particular, since you are looking for "easy mandolin chords" take a look at Beginning Mandolin 4. I know it jumps ahead of my first 3 beginner lessons, but that is the lesson which teaches both "two finger" and "chop chord" versions of a bunch of chords AND gives you some good slow jam practice playing. Click on the image below to read about them and watch free demos: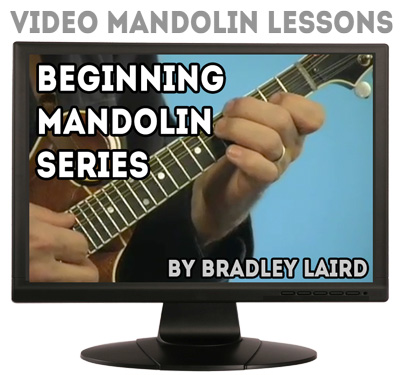 ---
Since you are here, and obviously want to play that mandolin, consider this:
This download lesson package contains 3 eBooks, 36 tracks and 3 Video lessons specifically designed for beginners.

This will get your ready for the jam sessions! See everything it contains by clicking this link.

It includes my Mandolin Instruction Course, The Mandolin Handbook, AND The Jam Session Survival eBook.

You owe it to yourself to at least check it out. It will save you countless hours of jumping from one YouTube video to another without a real plan.
---
Back to chord chart index page.