FREE MANDOLIN VIDEO LESSON
CRIPPLE CREEK JAM SESSION by Bradley Laird
This is just a simulated jam session which you can play along with (at 3 easy speeds) to work on your chords and lead playing on the song Cripple Creek. If you have no clue about how to play Cripple Creek please see my Jam Session Survival eBook.
Where are you going to find a jam session who will play your song, at your speed, make no snide remarks, and not ask you to buy them a beer? I ask you! Don't say you can't find a jam session. Bookmark this and jam to your hearts content.
Play some kind of rhythm (if you need the chords see Jam Survival) and when it says "Your break!", play your solo. Have fun!
If you don't know how to play Cripple Creek on the mandolin then I suggest you go scope out my premium Beginning Mandolin Series which have taught 1000's of people just like you to play! Click on the image below to read about them, watch free the demos and decide for yourself: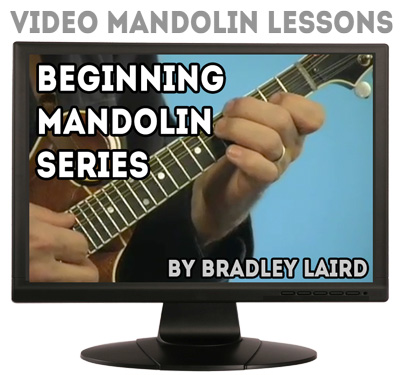 You banjo pickers can go here in 3-finger Scrugg's style or here in clawhammer style. I even have the guitar rhythm or lead tabbed out over here on my guitar site.