FREE CHORD PROGRESSIONS - by Bradley Laird
WHAT IS THIS PLACE?
This website is a jam session survival kit! I prepared this list of the 100 most popular bluegrass jam session tunes by attending a large number of jam sessions in the Southeast over many years and writing down every tune which was played and the key it was played in. After dozens of sessions, I crossed off the oddball tunes and kept the ones that were coming up over and over.
This site is designed for learning the chord progressions to these most common tunes which you will encounter at jam sessions. Scroll down for the list of tunes and free chord progressions.
Mobile Edition Just Released!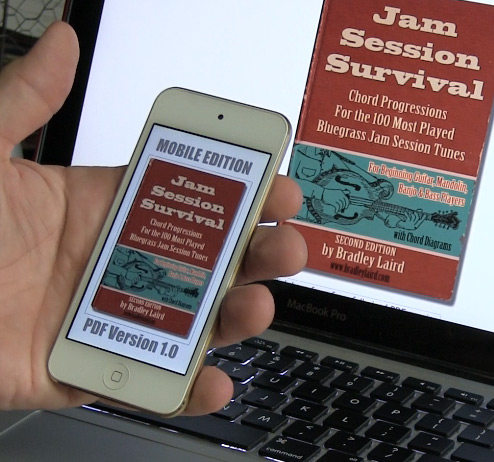 Below is a list of the top 100 bluegrass songs played in bluegrass jam sessions. The top 10, most often played songs are presented here free. They are links so you can easily find them. Print them out and use them at your next jam session!
---
INDEX OF THE MOST POPULAR CHORD PROGRESSIONS:
Tune or Song Title
Instructions for Using These Charts*
Free stuff is marked with "*"
1. All The Good Times Are Past And Gone
2. Amazing Grace
3. Angel Band
4. Angeline The Baker
5. Arkansas Traveller
6. Banjo Signal
7. Banks of the Ohio
8. Big Sandy
9. Big Sciota
10. Bill Cheatum
11. Billy in the Lowground
12. Blackberry Blossom*
13. Black Mt. Rag
14. Blue Moon of Kentucky
15. Boil Em Cabbage Down*
16. Bury Me Beneath The Willow*
17. Cherokee Shuffle
18. Columbus Stockade
19. Cripple Creek*
20. Crying Holy
21. Cumberland Gap
22. Dark Hollow
23. Dear Old Dixie
24. Devil's Dream
25. Don't This Road Look Rough & Rocky
26. Dooley
27. Down The Road
28. Dusty Miller
29. East Virginia
30. Eighth of January
31. Fair and Tender Ladies
32. Fisher's Hornpipe
33. Foggy Mountain Breakdown*
34. Footprints In The Snow
35. Forked Deer
36. Fox On The Run
37. Friend of the Devil
38. Good Woman's Love
39. How Mountain Girls Can Love
40. I Am A Pilgrim
41. I'll Fly Away
42. In The Pines
43. I Saw The Light
44. Jesse James
45. John Hardy
46. John Henry
47. Katy Daly
48. Kentucky Waltz
49. Knoxville Girl
50. Liberty
51. Little Cabin Home On The Hill
52. Little Maggie*
53. Lonesome Fiddle Blues
54. Lonesome Moonlight Waltz
55. Lonesome Road Blues
56. Long Black Veil
57. Long Journey Home
58. Love Come Home
59. Make Me A Pallet On Your Floor
60. Man Of Constant Sorrow*
61. Midnight On The Stormy Deep
62. Mississippi Sawyer
63. Molly & Tenbrooks
64. More Pretty Girls
65. Mountain Dew
66. New River Train
67. Nine Pound Hammer
68. Old Home Place
69. Old Joe Clark*
70. Over The Waterfall
71. Paradise
72. Pig In The Pen
73. Ragtime Annie
74. Rank Stranger
75. Red Haired Boy
76. Red Wing
77. Reuben's Train
78. Rickett's Hornpipe
79. Road To Columbus
80. Roll In My Sweet Baby's Arms
81. Saint Anne's Reel
82. Sally Gooden
83. Salt Creek
84. Salty Dog Blues
85. Shackles & Chains
86. Shady Grove (Major)
87. Shady Grove (Minor)
88. Sittin' On Top Of The World
89. Soldier's Joy
90. Sweet Georgia Brown
91. Swing Low Sweet Chariot
92. Temperence Reel
93. Think Of What You've Done
94. Train 45
95. Turkey In The Straw
96. Wabash Cannonball
97. Whiskey Before Breakfast*
98. Wildwood Flower
99. Will The Circle Be Unbroken*
100. Worried Man Blues
Free Bluegrass Jam Tracks
Other Free Information:
Free: How to Transpose to Any Key*
Free: How to Use a Capo to Play in Any Key*
Download the full sized version to print out or the mobile version formatted for phones and tablets.
CLASSIC VERSION PDF

Less than the price of a set of strings at only $5!

All 100 chord progressions in an 8.5" x 11" pdf format. Great for printing out and carrying to a jam session.

MOBILE VERSION PDF

Less than the price of a biscuit and coffee at only $5!

All 100 chord progressions in a pdf file customized for smart phones, tablets and other mobile devices.
These pdf files can be quickly downloaded to your computer. You will receive a download link after your transaction is complete. Check your email after you complete the purchase. Sales and downloads are processed by payhip.com. Read these downloading tips, especially if you use an iPad, before downloading.
---
More Information About These "Cheat Sheets"
When you drop in on a jam session you will soon discover that there are a lot of songs being played which you have never heard. This group of the 100 most popular jam session tunes should give you an advantage and help you play better. You can study them in advance and I can guarantee that the experienced players will know all of these songs! You can also print these out and bring them with you. So, if they ask you what YOU want to play just suggest one of these bluegrass and old-time standards.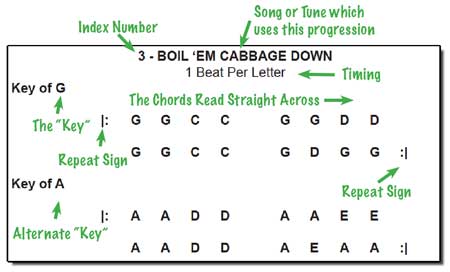 Click here for free Instructions for Using These Charts
I used to call this the "Cheater's Bible" but it's not really cheating to look at a cheat sheet if it helps you play better. In time you will memorize the songs and you will not need the crutch any longer. Think of these sheets as jam session training wheels.
As I said already, be sure to read the instruction information page so that you understand how I put these charts together.
Note: Sometimes there will be more than one song which uses the same chord progression so if you learn one you have learned the others too! That, by the way, is why chord progressions cannot be copyrighted. Too many songs share the same chords. The same goes for song titles.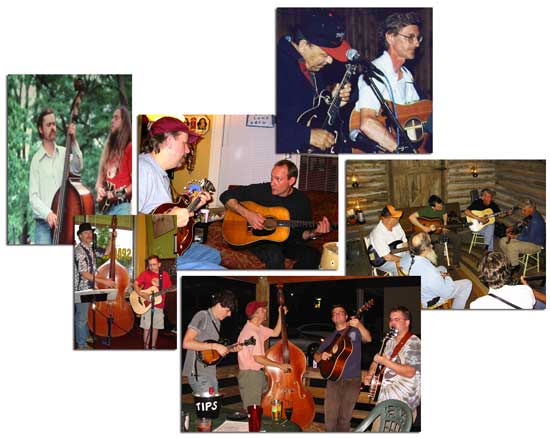 Have fun and happy pickin.
Thanks, Bradley Laird.
Click here for more detailed information about this book.